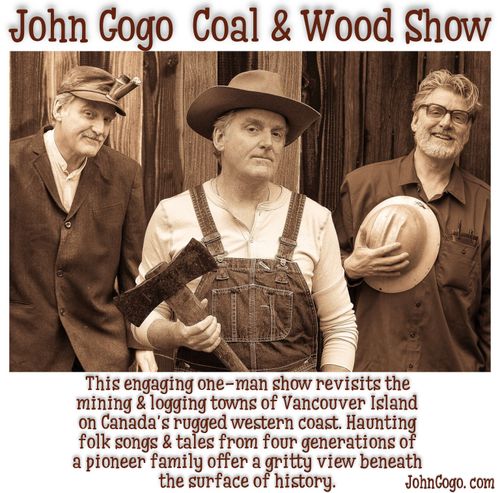 John Gogo - Coal & Wood Show
This engaging one-man show written and performed by John Gogo revisits the gritty mining and logging towns of Vancouver Island on Canada's rugged western coast. Haunting folk tales by four generations of a Nanaimo pioneer family offer a fascinating look beneath the surface of history unfolded from 1895 to 1995. Their songs explore the unique and layered lives of heroes and villains: the visionary Finns of Sointula, the notorious Dunsmuirs, labour martyr Ginger Goodwin, the ghost of Clarence Ballance and the infamous Brother XII of De Courcy Island.
Please go to 'shows' (https://johngogo.com/shows) for a complete list of up-coming performances of 'John Gogo - Coal & Wood Show', plus some solo 'Singer/Songwriter' shows, and maybe even some more shows with my singing/songwriter daughters Jena & Jeri, aka 'J. Gogo & Sons'. Thanks!
PS There are two formats of the illustrated 'Coal & Wood Show' poster available on the photo page here on my website (high resolution for printing plus a format for online use).